5 Color Recognition Activities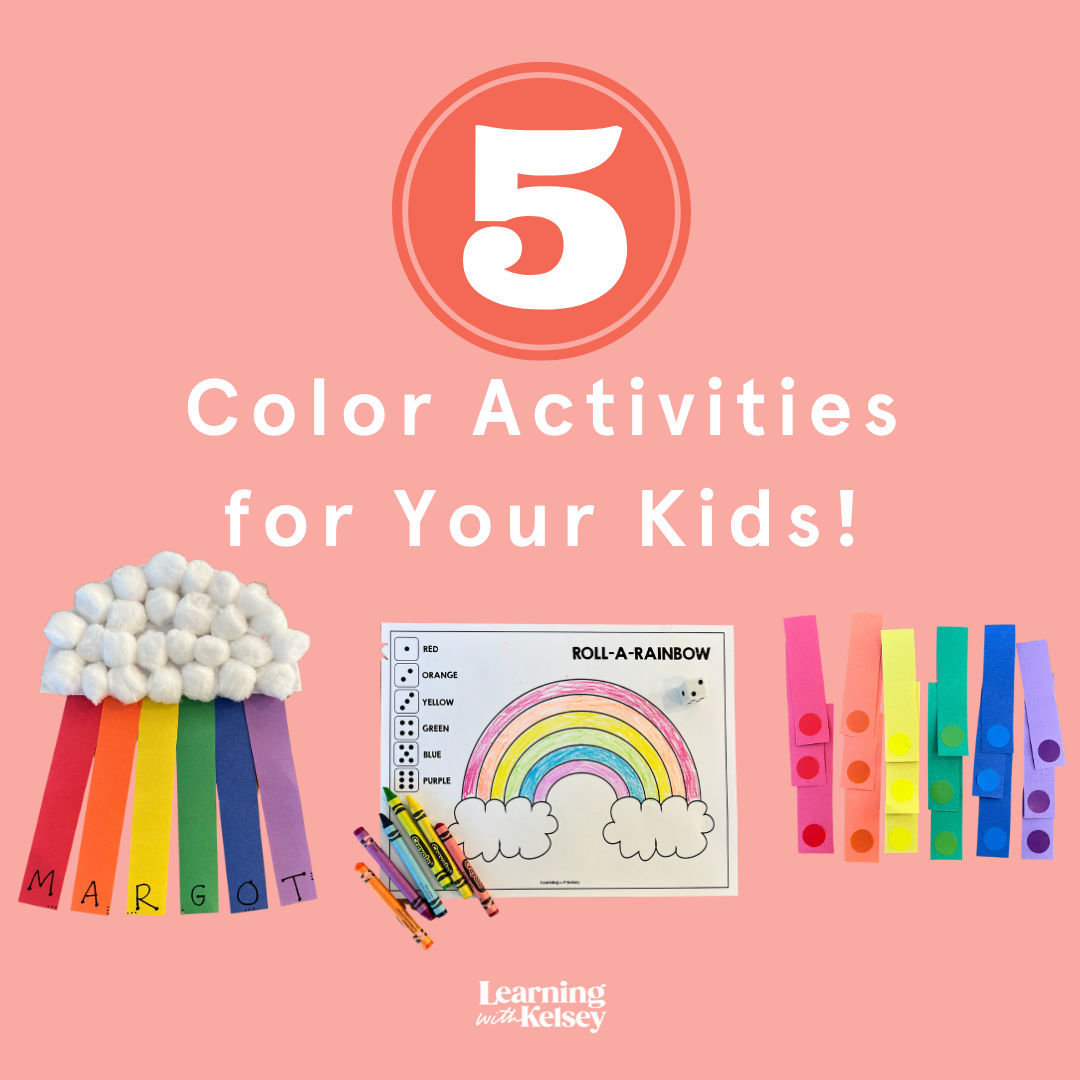 Learning to recognize and identify colors is an important part of early childhood education. It's also fun and exciting to better understand the world around them!
You can begin introducing colors as early as 12 months. Some kids will latch on to this idea, while others may take a bit longer to get comfortable with colors.
However, just by mentioning and pointing out the colors on their clothes, toys, etc. they will feel more familiar and be better prepared to learn them later on.
Here, I've rounded up five of my very favorite activities that will keep your child both entertained and learning. These are great for ages 2-6, the younger ones obviously requiring more assistance!
5 Color Recognition Activities
Fruit Loop Rainbow
This is a fun activity that not only helps with color recognition, but also with fine motor skills and patterns.
Supplies:
Fruit loops

2 jumbo marshmallows
Instructions:
Load your pipe cleaner up with fruit loops, you can do rainbow pattern or make your own. Leave about 1.5 inches open on either end. Be sure to recite the colors as you put them onto the pipe cleaner.

Put one end of the pipe cleaner into a marshmallow.

Gently bend the pipe cleaner to look like a rainbow.

Finish by pressing the other end of the pipe cleaner into the other marshmallow.
Rainbow Name Craft:
This is great for color and name recognition. It's also a fun craft that will surely keep your child engaged. Recite the colors and talk about the rainbow as you make this craft together!
Supplies:
Multiple colors of construction paper (rainbow colors if you have them!)

Marker

½ of a white paper plate

Cotton balls

Glue
Instructions
Cut a paper plate in half.

Cut strips of paper (cut one for each letter of your child's name in different colors)

Write (or have your child write) each letter of their name on a different strip of paper.

Glue the papers to the back of the paper plate so that their name hangs down in rainbow colors from the plate.

Once that has dried, glue cotton balls to the plate to make a cloud! 
Roll a Rainbow:
This is a fun activity that is great for math/number recognition. It's also helpful to practice counting and obviously colors!
Supplies:
Dice

Crayons/markers/colored pencils
Instructions:
Have your child roll the dice, then count the number of dots.

Have them find the matching number on the worksheet and color a part of the rainbow the corresponding color.
Dot Sticker Match:
This one is a super easy set up and can be repeated over and over! It's also great for fine motor skills! Have your child announce the colors as they place them on each strip.
Supplies:
Dot stickers or dot markers that match the strips of paper
Instructions:
Cut strips of construction paper, multiple of each color.

Tape the butcher paper to the wall or the floor.

Tape pieces of construction paper all over the butcher paper.

Have your child match the dot stickers or dot markers to the strips on the butcher paper.
Rainbow Dot Picture:
This is another one that is great for fine motor skills. Again, announcing colors as they touch them is a great way to reinforce color recognition.
Supplies:
Dot stickers (rainbow colored)
Instructions:
Print out the worksheet.

Then have your child match the dot stickers to the colors on the page!

After, they can color their own drawing and match stickers to it as well!
These are fun color activities to do any time of the year, but we especially like to do them in March for St. Patrick's Day. All things spring and rainbows to keep things upbeat and happy. My kids love making the rainbow name cloud every year and I love having them up on my refrigerator! Tag me on Instagram or TikTok if you try any!