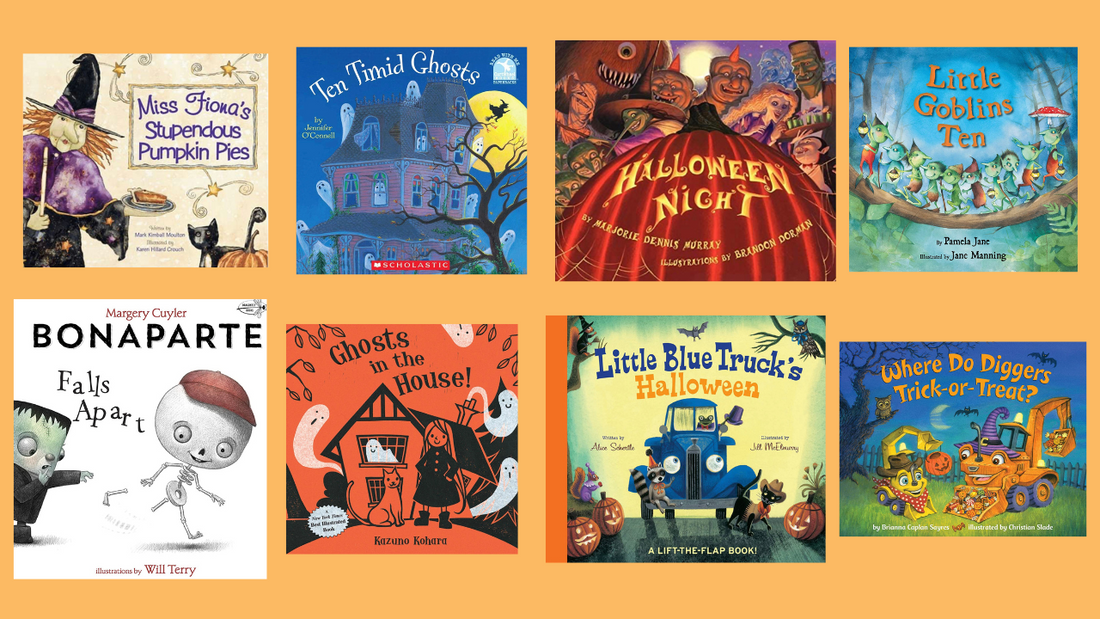 Halloween is a magical time when pumpkins glow, ghosts come out to play, and the air is filled with a sense of adventure and excitement. To make this spooky season even more enchanting for your little ones, I've curated a bewitching list of Halloween books for kids that are sure to cast a spell on young readers. From friendly witches to daring diggers on trick-or-treat quests, there's something for every ghost and ghoul in this hauntingly good collection.
15 of the Best Halloween Books for Kids
 

by Julia Donaldson and Axel Scheffler

Join a kind witch and her animal friends on a broomstick adventure filled with laughs and surprises. This delightful tale of friendship is perfect for little witches and wizards.

Interactive and hilarious, this book invites kids to shake, tilt, and spin as they try to get the monster out of the book. A great choice for little monsters looking for some giggles.

There's A Monster in Your Book

by Tom Fletcher

Where Do Diggers Trick or Treat?

by Brianna Caplan Sayres

Construction vehicles get into the Halloween spirit in this imaginative and colorful board book, making it a treat for little truck lovers.

Follow the fearless little old lady as she encounters spooky characters on a moonlit night. This repetitive and rhythmic story is perfect for engaging young readers.

The Little Old Lady Who Was Not Afraid of Anything

by Linda Williams

by Steven Kroll

This heartwarming tale of teamwork and friendship follows two mice who compete to grow the biggest pumpkin ever. It's a delightful harvest-themed Halloween story.

Join the alphabet characters as they scramble to put on a Halloween show. This book combines humor and learning, making it a spooky treat for young readers.

Alpha Oops! H Is for Halloween

by Alethea Kontis

by Pamela Jane

A playful twist on the classic nursery rhyme, "Over in the Meadow," this book counts down as ten little goblins prepare for Halloween fun.

With captivating rhymes and spooky illustrations, this book takes readers on a journey through a haunted house on Halloween night. Perfect for kids who love a good scare.

by Marjorie Dennis Murray

by Margery Cuyler

Bonaparte is a little skeleton who has trouble keeping himself together, especially when it comes to playing sports. This charming story about friendship and acceptance is a Halloween must-read.

Follow a young witch as she sets out to experience Halloween for the first time. It's a heartwarming tale about the magic of friendship and the courage to try new things.

by Alison McGhee

by Alice Schertle

Little Blue Truck and his animal friends celebrate Halloween in this delightful board book with rhyming text and vibrant illustrations.

Join Miss Fiona as she bakes pumpkin pies with pumpkins that have magical stories to tell. A delightful Halloween tale with a delicious twist.

Miss Fiona's Stupendous Pumpkin Pies

by Mark Kimball Moulton

 

by Jennifer O'Connell

 A countdown book that's perfect for Halloween, this story follows ten timid ghosts as they try to scare a witch out of their haunted house.

The story revolves around a resourceful young girl who moves into a house that happens to be haunted. Instead of being frightened, she embraces the supernatural residents as her roommates.

by Kazuno Kohara

 

by Stephen Wunderli

Follow the journey of a little seed named Boo as he waits impatiently to grow into a big, strong pumpkin. This book beautifully captures the anticipation of fall and Halloween.
Over the years, we've created a collection of holiday books. One of my kids' favorite traditions is picking out a new Halloween book each year. This is a list of some of the BEST Halloween books for kids that we have found in our years of collecting!
This Halloween, let the magic of storytelling enchant your little ones with these spooktacular books. Whether it's the charming adventures of a friendly witch, the hilarious antics of interactive monsters, or the heartwarming lessons of teamwork, these Halloween books for kids are sure to bring joy, laughter, and a touch of spooky fun to your family's celebrations. So, gather 'round the cauldron, dim the lights, and let these tales weave their spell on your young readers! Happy Halloween!
More Halloween Fun
P.S. If you're looking for more Halloween fun, try making this Halloween Sensory Bin!