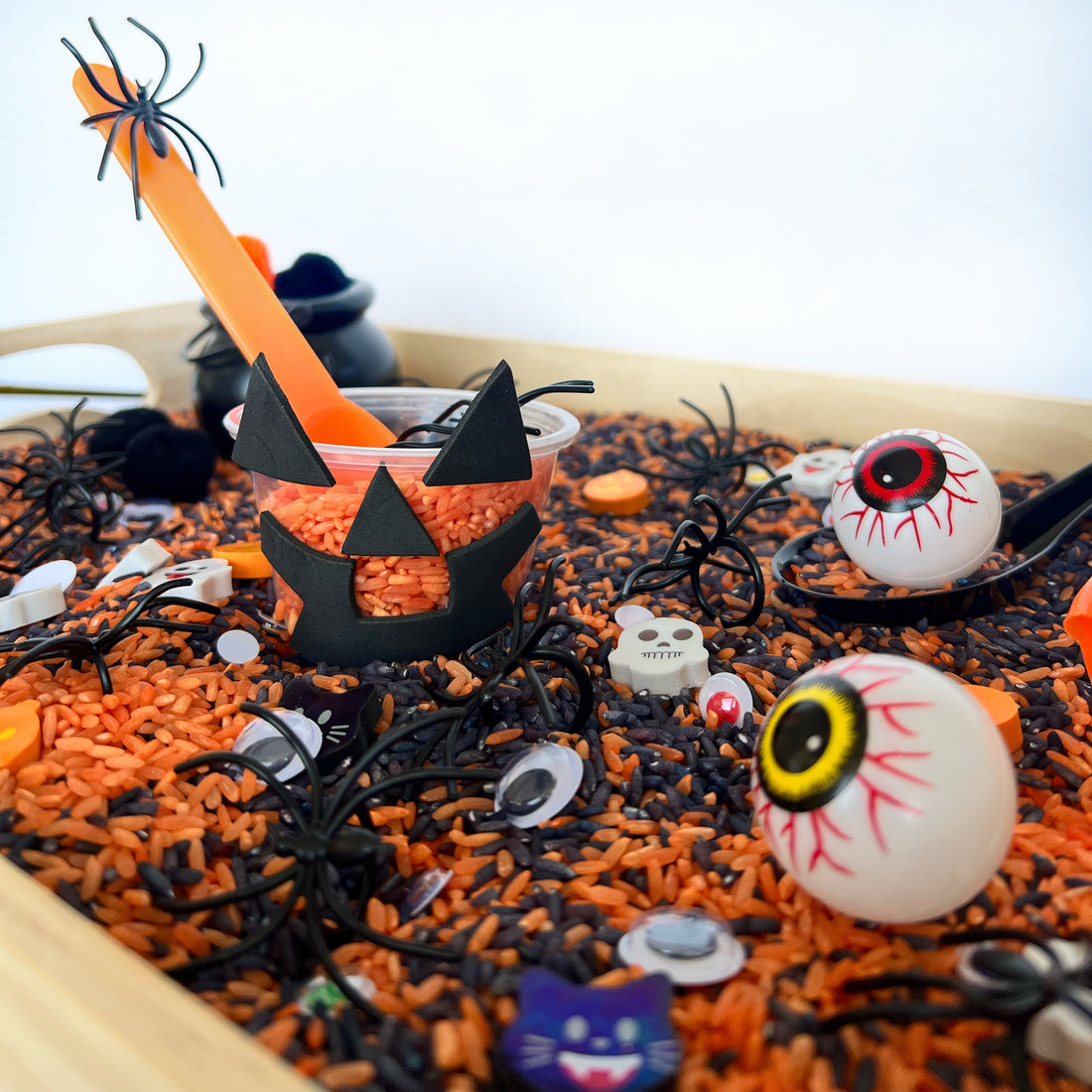 This is a simple and fun Halloween sensory bin for kids! October is one of my favorite times of the year and my kids LOVE Halloween. Whenever I make something themed, they are even more excited. I included in this post how to make my favorite sensory base, colored rice! Make this bin and you can use it with your toddler for weeks! 
Finding items for your sensory bin is easy! Many of these items can be found at the dollar store or any  craft store. Halloween seems to be starting earlier and earlier at stores so grab all your fun supplies in August and you will have them ready to go for your October bin! I set this bin up in mid September and my kids played with it for more than a month. We added extra rice here and there as it inevitably gets lower and lower as the month goes on! If you don't want to make your own you can always check out the monthly sensory box and get it all sent to your door! 
Supplies for Sensory Bin: 
Rice (4 cups) 

Mini halloween erasers

Ping pong eyeballs

Plastic cauldron

Spider rings

Googly eyes

Vampire teeth

Orange spoon 

Black scoop 
Making the rice is the first step in creating your perfect sensory bin. Rice is my favorite base for sensory bins because it is so easy to make and you can switch it up with different colors! 
Rice Recipe: 
1 cup rice

1 tsp vinegar

3-4 drops food coloring

Gallon ziploc bag

Baking sheet
Add your rice, vinegar, and food coloring into the gallon bag. Close it tightly (make sure to do this! I have covered a few kitchens in rice making this haha!). Shake the bag until the rice is covered in food coloring to your liking. Pour the rice out onto a baking sheet and let it dry! It usually takes an hour or two. 
Setting Up the Sensory Bin: 
Pour the rice to your bin. This is my favorite bin to use! 

Add in the Halloween accessories to the tub and let your kids play. 
This sensory bin can be done indoor and outdoors! When my kids are playing indoors I will put a towel or a mat underneath to catch the rice that falls out. Sensory bins are a great way to give your child independent play time and is a great open ended activity.