The Best Thanksgiving Books for Kids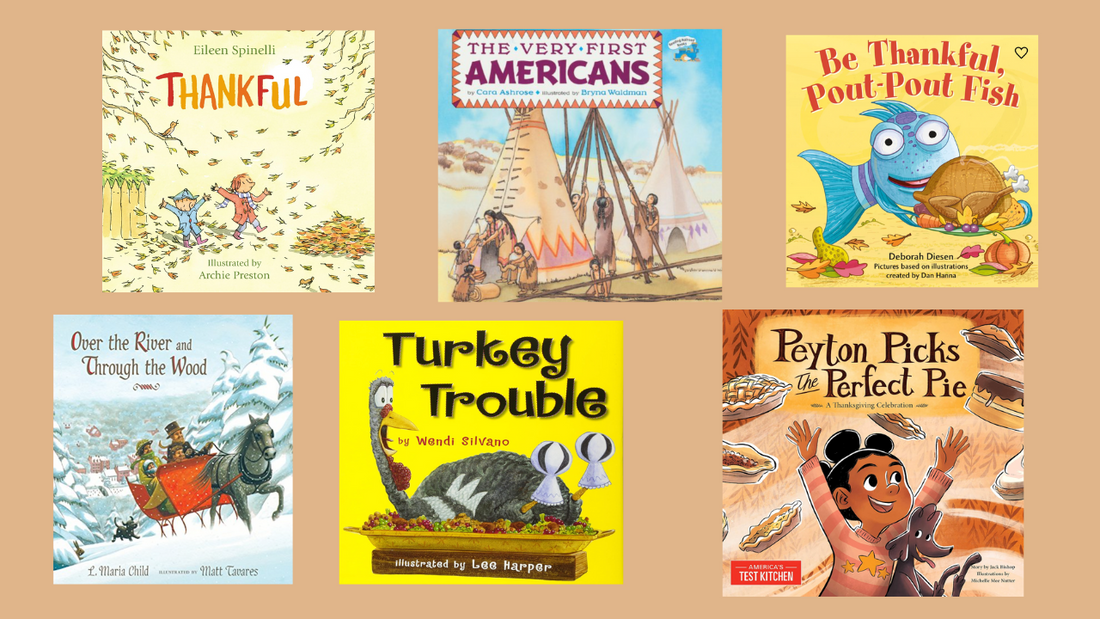 I love sharing my favorite books from each season or holiday. I decided I better get my list of my favorite Thanksgiving books out sooner because I know some of you like to request them from the library. So, hopefully this will give you enough time to grab them before it's too late.
Thanksgiving is a time for family, feasting, and, of course, storytelling. As the holiday season approaches, it's the perfect opportunity to share heartwarming tales that capture the essence of gratitude and togetherness with your little ones. So, cuddle up and read these 10 stories. They are sure to warm your hearts and inspire meaningful conversations about thankfulness during this special time of year.
First things first, who doesn't associate Thanksgiving with family time. I love that this is a story about a fun journey to Grandma's house! Plus, the illustrations in this book are beautiful and vibrant. This is a family favorite!

Mouse is discovering that the seemingly tiny leftovers are actually a GREAT feast for him! Mouse helps us learn about sharing and appreciating the simple joys of Thanksgiving.

Imagine being a turkey when Thanksgiving comes around! That's exactly the story Turkey tells in this silly tale. We follow Turkey's hilarious disguises and escapades to avoid becoming dinner.

I think it is so important to include Native voices when we are learning and reading about Thanksgiving. Otsaliheliga is an espression of gratitude used by the Cherokee nation. This beautifully illustrated book is a moving celebration of thankfulness, resilience, and community.

 

This one is a cute reminder that we don't need grandiose things to feel thankful! We can celebrate everyday moments with gratitude. This is a feel-good book that reminds us to feel appreciative of life's blessings, both big and small!

Get a peek into one of the most iconic parades of the year! This cute book tells the story of Tony Sarg, the original puppeteer who invented the iconic parade balloons. Bonus, these illustrations are so fun to look at.

Does your toddler love Pout-Pot Fish like mine does? If so, this is a fun one to focus on the idea of being thankful in a setting they are familiar with. Bonus, this is a board book—no need to worry about ripping with those tiny hands.

I love teaching my kids about the origins of holidays, where they started and how we got to what we do now to celebrate. This is the perfect book to discuss the history of Thanksgiving from a new perspective. It focuses on the Wampanoag tribe and features beautiful illustrations.

This one makes for a great read-aloud. The story follows the students of Turkey Elementary as they scheme a plan to catch the turkey before Thanksgiving.

Have a sweet tooth? So does Peyton. This is a fun, light-hearted story that describes Peyton's valiant quest to find the very best Thanksgiving pie!
These Thanksgiving books for kids are the perfect companions to celebrate the holiday season. As you gather with your loved ones around the table, take some time to share these heartwarming stories that emphasize gratitude, sharing, and the importance of family. These books will not only entertain and educate but also foster meaningful discussions about the true spirit of Thanksgiving. So, cozy up with your little ones, read these tales aloud, and create lasting memories of gratitude and togetherness this Thanksgiving. Happy reading and happy Thanksgiving!